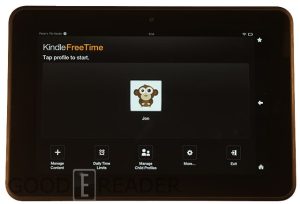 One of the more enticing features of Amazon's Kindle Fire tablet, at least for parents, was the option known as Kindle FreeTime. This parental control feature enables parents to set time limits on tablet use, as well as control what content their children can access within the tablet.Even better, the content is divided into educational or entertainment categories, and parents can establish in the settings that their kids must first reach certain goals in learning content before being freed up to play games or watch cartoons.
Today, OverDrive announced that Kindle FreeTime just got all that much more beneficial. As the world's leading provider of digital content to school and public libraries, OverDrive has some 20,000 member libraries and the content that is shared with those members can now be accessed by patrons using the Kindle FreeTime feature. Essentially, this means that a child with a FreeTime account who attends an OverDrive member school can access that content through the Amazon app.
While the young readers do have to be patrons of a school or library that offers OverDrive platform content in order to take advantage of this feature, this means that parents can still use the feel-good controls of FreeTime while supplying their children with free access to quality reading material from over 800 publishers.
According to a press release on the program, "OverDrive offers libraries and schools the industry's largest and most complete eBook catalog, including Kindle eBooks from more than 800 publishers. Popular titles in educational, children's, young adult, fiction, and more from authors such as Neil Gaiman, Dan Gutman, Judy Blume, Rick Riordan, and Beverly Cleary can now be read within Kindle FreeTime. Once borrowed from the library or school, children can read eBooks including the Big Nate and Friends series, Harry Potter series, Number the Stars, The Book Thief, The Chronicles of Narnia series, Wonder, Mary Poppins and thousands of others."
Kindle FreeTime Just Got Better with Help from OverDrive is a post from: Good e-Reader